Madman Mike Your Musical Slave
Popular Michigan DJ plus a Music and Entertainment Information Service, based in Metro Detroit.
This is his Mobile Site.
Quickly see his DJ Service Information.
Music Slavin Mike
Mike's info-packed main website has lists of Michigan Bands, DJs, Karaoke, music events, music services, general popular events. Also has full info about his DJ Service plus song lists and much more amazing free info. No Logins!
Check out his main website.
click → www.madmanmike.com
Vote for Mike in Detroit A-List of Services.
Metro Detroit Wedding DJs Category

Mike is a member of N.A.M.E.
National Association of Mobile Entertainers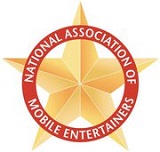 Mike is on Facebook. click ...
Mike is involved with ...
Music Fest 4 Vets – annual summer music festival in Metro Detroit supporting U.S. Veterans in need.